Your skin during menopause: skin aging
While some women don't seem to be bothered by it, for others it is a real struggle. During menopause, many things change. The big culprit? The changes in your hormones. The list of complaints is not lacking: mood swings, hot flashes, persistent fatigue and skin problems are just about the most common. The latter is especially visible. Yes, the aging of your skin is accelerating at this stage of life, there's no getting around that. But, menopause really doesn't have to be a damper on your joy of life. Are you determined to embrace this period in your life?
Is there a difference between cosmetic treatments for men and women?
The first signs of skin aging often begin as early as perimenopause. Your skin begins to feel a little less tight and the density seems to decrease. The lower skin, the dermis, with its connective tissue gives support to the epidermis, the epidermis. Below this lies the subcutis or subcutaneous adipose tissue. During menopause, we see an acceleration of the aging process in the dermis. As the production of estrogen and progestogen decreases, fibroblasts produce less elastin, collagen and hyaluronic acid: the dermis loses volume, causing the skin to sag and loosen, resulting in a less pronounced jawline, less skin volume and often a tired look.

The answer is multidisciplinary. On the one hand, we recommend starting skin care and treatment in a timely manner. We tell it like it is: supporting your beloved skin at the first signs of aging makes it easier to keep it healthy as well as beautiful. On the other hand, we very consciously take a holistic, sustainable approach where we contribute on various fronts – inside and out – to achieve the best results.
Nurturing from within is an important foundation for feeling well and healthy during menopause. Think about your general lifestyle and diet, but you can also do something hormonally. A safe and recently optimized form of anti-aging, is substitution of bioidentical hormones. Such treatment can make a lot of difference. Our orthomolecular physician and gynecologist supervise this treatment. With the light gels we apply to the skin, we catch the relapse of hormones. Recent studies show promising results here beyond the stunning positive effects on the skin. We also see these results in practice.
Dermis: provides support, adipose tissue

dermis: living part of the skin, connective tissue: collagen, elastin, blood vessels, nerves

covered by epidermis: dead skin layer with brick-like structure, ensure that the dermis is protected.
Photofacial
Skin type: all skin types
Photofacial treats pigmentation spots, often also caused by long-term sun damage. The specific light beam acts selectively on pigment and redness.
Face, neck, décolleté and hands become more evenly colored, resulting in a fresh look.
Frequency: 1-2 times a year

Skinboosters
Skin type: all skin types
Skinboosters are ideal for improving skin condition and aging naturally and beautifully. The boosters provide hydration, firmness and elasticity and give you an overall natural glow. About two to three treatments a year already give nice results. Starting at perimenopause - between the ages of 35 and 40 - slows overall skin aging.
Frequency: 2-3 times a year

PRP treatment
Skin type: thinner, fragile skin
Needling in the skin. A gentle technique. By additionally stimulating the fibroblasts that we often see in more fragile, thin skin. This is a treatment with little downtime. We use the patient's own platelets: a biological method of stimulation. Platelets release a mass of growth factors, stimulating collagen production.
Frequency: 3 times every month, then every 6 months thereafter.

Fractional laser // CO₂ laser
Skin type: slightly thicker, oilier skin with larger pores
With this laser treatment we work on refining and flattening and firming the epidermis, the epidermis by heat generation.
Frequency: Intensive every 6 weeks, maintenance 3 times a year.

Fculptra poly-L-lactic acid (PLLA)
Skin type: all skin types
Sculptura is an injectable skin booster that is inserted locally subcutaneously via a small puncture. The lactic acid particles promote the natural regeneration of the skin through small stimulations. Result? A beautiful, natural look. How exactly? The PLLA stimulates fibroblasts to produce collagen. Again, starting on time gives the best results.
Frequency:1 dose per 10-year age every 2 months, thereafter only 1 dose once a year

3. Medical laser hair removal men
During consultations at our clinic, we often get the same question. Can we do something about that tired look and loosening skin on the neck and jawline?
A clear look and healthy skin provide a fresh expression and often give you the self-confidence you need. It goes without saying that you want to feel good about yourself even during menopause. A less defined jawline, looser skin on the neck and a tired look are common consequences of one more year on the counter. There are a number of treatments that give beautiful results here – depending on the skin type.
we also focus on techniques that stimulate the dermis to produce collagen and elastin. Here we are going to stimulate skin quality. If you start it on time, you can keep your skin perfectly well. We cannot stress it enough: timing is everything. Starting to take care of your skin in a timely manner by stimulating it regularly with small stimulations gives the most beautiful, natural results.
How it works. Through the stimulation, we force the cell to return to action. But, one skin is not the other. Thinner, finer skin requires different treatment than thicker, tougher skin. By a skin analysis and visia analysis >> internal link we first determine your skin type and the condition of your skin before suggesting the most appropriate treatments.
What can I do on taking away my tired look?
Often we can refresh the look with just a little filler. A tired look usually results from loss of volume in the area under the eyes: midface, tear trough and temples. We restore this volume by an injection of hyaluronic acid so that the shadow in that area disappears. Preferably, the fill should not exceed the natural contour so that the effect matches the original contour.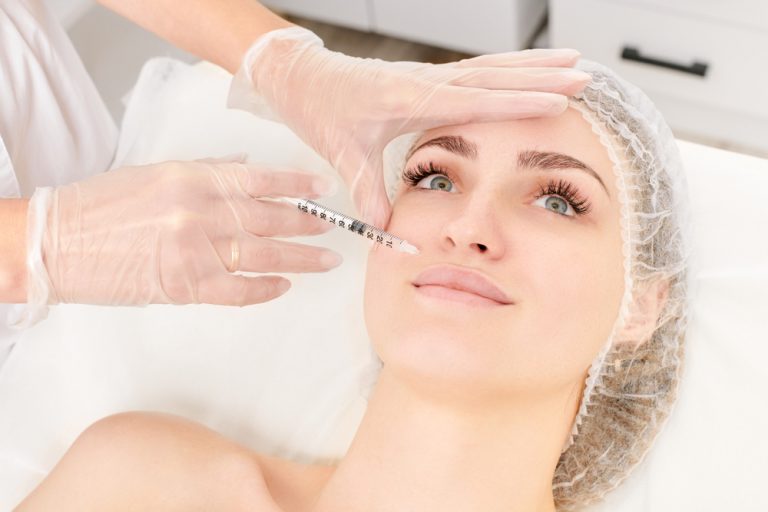 How do I combat the loosening and drooping of my jawline?
Would you like to see a tighter jawline and neck again? Depending on your skin type and personal needs, we can work with skin boosters, heat treatments, fraction laser and ultrasound or sof wave (radiation that warms and gives a collagen boost) to support the skin. And fillers can also tighten the jawline again.
Charting your personal experience
Change in hormones and menopause are just one part of the whole aging process. Just because a holistic approach is important and several factors come into play in with skin aging during menopause, we recommend a menopause consultation to all our patients who want to embrace this period. In this period of transition, extra self-care is important, in all areas. A personal, in-depth conversation with our gynecologists menopause consultant or orthomolecular physician in which we frame what menopause means for you and look at general lifestyle, well-being, eating habits, exercise and general health principles. In addition, every skin is different and requires a customized treatment. Through a skin analysis and visia analysis, we determine skin type and skin condition.
Based on all this information of are chosen the most appropriate treatments for you.
More information about treatments?
Contact us for a no-obligation menopause consultation.
Contact us for more info or a consultation
After reading this blog post, are you considering a hairstetics treatment, or do you still have questions? Feel free to contact us and we will be happy to help you.
Please feel free to contact us!